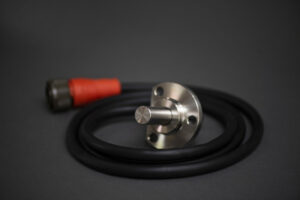 For more information visit our Application Design page
Download Operating/Installation Instructions
Smith Digi-Tran ® Digital Speed Sensors utilize integral active signal conditioning electronics to provide constant amplitude output regardless of exciter speed. These speed sensors can be powered with a wide range of supply voltages and are compatible with digital equipment. These speed sensors can be used to detect ferrous metal and magnets in motion. Smith Systems, Inc. offers three types of active speed sensors, standard digital, zero speed, and proximity.
Smith Systems, Inc features 3 types of active speed sensors:
Standard Digital Speed Sensor
Zero Speed Sensors
Proximity Speed Sensors
The standard digital sensors are passive sensors with integrated signal conditioning for operation in the 5 to 30 KHz range. Zero speed sensors utilize a special sensing element for operation in the 0 to 20 KHz range and for wide air gaps. Proximity sensors are used for detecting ferrous and non-ferrous metal. The typical operating frequency range for a proximity sensor is 0 to 2 KHz.
Smith Digi-Tran ® speed sensors are available in a variety of housing configurations and terminations. Housing configurations to accommodate applications with high pressure and fluid submersion are available. These sensors are designed to accommodate a broad spectrum of temperatures and are resistant to oil, dirt and moisture.