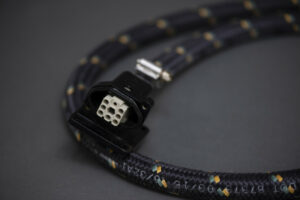 For more information visit our Application Design page
Smith Systems, Inc. designs high-reliability signal harnessing associated with our sensor products.
EZ-Change ® waterproof cable connector assemblies are designed to provide reliable signal and control information for your system in rugged environments.
Molding high-quality thermo-plastic rubber to our EZ-Change ® SpectraFlex cable connector offers a variety of performance and processing advantages over conventional thermo-setting elastomers. Exhibiting performance characteristics equivalent to those of synthetic rubber polymers, SpectraFlex cable also has superior environmental resistant qualities equivalent or superior to general purpose EPDM rubber compounds, and fluid resistant equivalent or superior to neoprene rubber. This unique combination of environmental and fluid resistance provides a TPR cable suitable for a broad spectrum of applications. Stainless steel braid or stainless steel armor is installed for extreme conditions. This additional material encapsulates the cable and provides protection from external forces.
Contact Smith Systems, Inc. for a custom designed harness for your application!